Thieves tea is a hot beverage that supports your immune system! Drink it when you need a little boost and stay safe this flu season!
What is Thieves tea?
Thieves tea is a wellness drink that combines Thieves essential oil, lemon essential oil, honey, and water. I love to drink it when I feel like I might be fighting a bug, especially in my throat!
The flavor is sweet, herbal, and a little spicy. I wouldn't say that it's the most delicious drink out there, but it definitely works for sore throats and coughs in my experience! As a mom and the only one who knows how to cook in my family, there's no way I can get sick so I have to nip it in the bud early by drinking a mug of Thieves tea!
What is Thieves oil?
Thieves is a blend of clove, lemon, cinnamon bark, eucalyptus radiata, and rosemary essential oils. It has a bold, spicy aroma that smells wonderful when diffused, and is said to offer benefits of overall wellness and a healthy immune system. The lemon essential oil in the blend is also said to have antioxidant properties.
Is it safe to ingest essential oils?
Many people are concerned with ingesting essential oils and I agree, it's not always safe. Some essential oils are not safe to ingest, while others are in small doses. Essential oils are very potent, so it's important that you don't take an excessive amount.
It's also important to note that the regulations around essential oils are quite loose, so many companies will dilute their oils or use synthetic chemicals and still label their bottles as "pure essential oil". It's important that you buy your essential oils from a brand that you can trust, especially if you're going to ingest it!
Which essential oil brand is safe to take internally?
In my experience, Young Living's Vitality line is the most reliable. The Vitality line is a collection of oils specifically for ingesting orally, but of course, in very small amounts. I have also used a different brand's Thieves oil which I found to be very similar to Young Living's blend, but because it's not marketed to be ingested, I did not use it to make Thieves tea.
I also have friends who use Doterra and love to make Thieves tea using their On Guard Protective Blend. Whatever brand you choose, make sure it's a brand that produces high-quality essential oils that they can market to be safe for ingestion.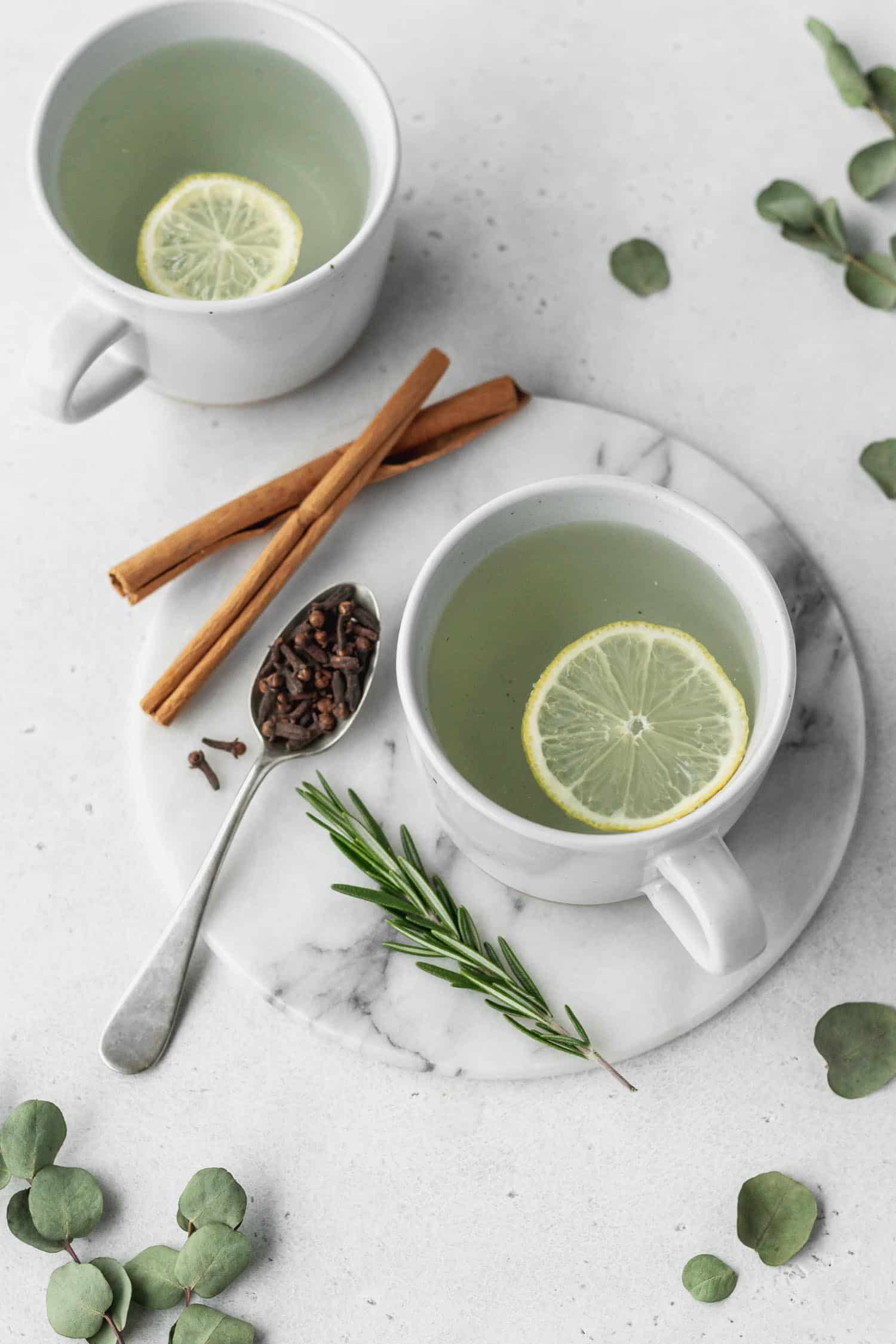 How to make Thieves tea
It's so simple and easy to make, I'm not sure this really counts as a recipe! Mix the honey and oils in a big mug, and add hot water or tea to it. I prefer to use raw honey, but regular honey or manuka honey would work too.
The key is to add the essential oils to the honey before adding the hot water! Otherwise, the oils float to the top and coat the mug, leaving you with very little oil to get in your body.
More recipes to keep you warm
Thieves Tea
Thieves tea is a hot beverage that supports your immune system! Drink it when you need a little boost and stay safe this flu season!
Print
Pin
Rate
Ingredients
1-3

teaspoons

honey

1-2

drops

Thieves Vitality oil

2

drops

Lemon Vitality oil

1 to 1½ cups

(240-360g)

hot water or tea
Instructions
In a mug, combine the honey and essential oils. Add hot water or hot tea to fill the mug and stir.