With St. Patrick's Day out of the way, we're all looking forward to Easter and all the carrot cakes, egg shaped chocolates, and bunnies galore it brings.
My family loves a good carrot cake. Whether it's a layered cake or a cupcake, we'll take it! Now, I'm not sure if it's the grated carrots or the idea of a vegetable in dessert, but some people just aren't fans.
So if you don't enjoy the classic American style carrot cake, why not go Brazilian? No, I'm not talking about waxing.
The carrots are blended into the cake batter, nice and smooth. No carrot bits sticking out of your slice! And an added bonus: the cake is covered in chocolate icing!
Anything with chocolate, am I right?
My version is not the authentic Brazilian bolo de cenoura. It's more of an interpretation.
I used my recipe for spiced orange bread as the base (it was a members-only recipe for my newsletter subscribers. Click HERE to get my secret recipes!).
The brigadeiro frosting is what I love most about this. Brigadeiro is a traditional Brazilian sweet that combines cocoa powder, condensed milk, butter, and chocolate sprinkles. I wanted to make it dairy-free, so I substituted regular condensed milk with homemade coconut condensed milk.
Chocolate and coconut together? To. Die. For.
I personally think I deserve an award for not eating the brigadeiro frosting out of the bowl with a spoon. Well, I didn't eat all of it. I ate some.
The cake itself is very moist. I tried to make it with maple syrup as the only sweetener so I can justify eating half a loaf in a sitting, but no. You really do need both sugar and maple syrup. I find using all maple syrup makes it too moist and not sweet enough.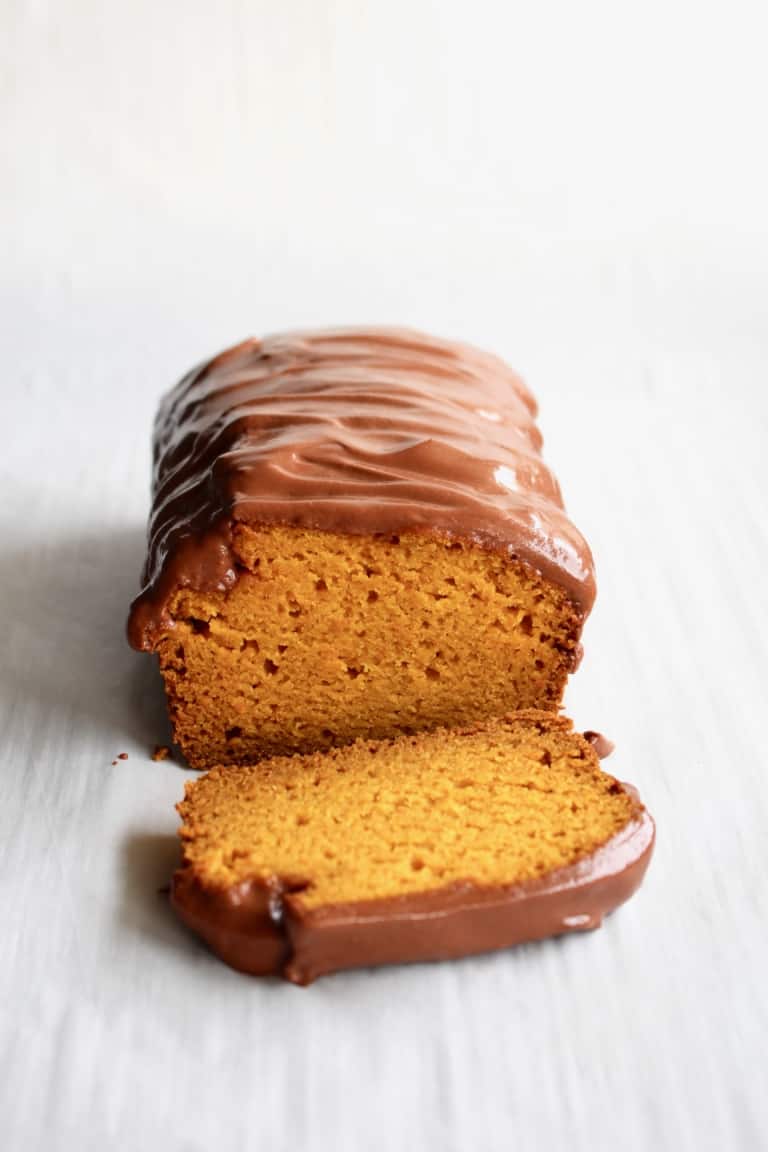 I only spread half the frosting on the cake because I was rushing to finish this as my son woke up from his nap. But what I'd suggest is covering the entire loaf with the frosting and then sticking it in the fridge to let it set.
I just keep the bowl of extra frosting next to me and smear a little (ok, a spoonful) onto each bite.
I'm never losing this baby weight, am I?
To be honest, I kind of like the baby weight. Or maybe I like the fact that I have an excuse to not be as toned and fit as I used to be.
Tristan doesn't know this yet, but I've already eaten most of the cake. Because I keep it in the fridge, it's not sitting on the table where he can see it. Out of mind, out of sight, keeps me from being light. Should have come up with that for World Poetry Day a couple days ago!
If you liked this recipe, don't forget to save it on Pinterest for later, and make sure you're signed up to my newsletter where I send out a members-only recipe every month! I already gave a sneak peek on my Instagram for this month's newsletter.
Carrot Cake with Brigadeiro Frosting
Print
Pin
Rate
Ingredients
Cake
1

heaping cup

roasted carrots

¾ cup

(150g)

cane sugar

¼ cup

(60ml)

maple syrup

⅓ cup

(80ml)

grapeseed oil

1

egg

1½ cup

(188g)

Bob's Red Mill gluten-free 1 to 1 baking flour

1

teaspoon

baking soda

1

teaspoon

baking powder

½

teaspoon

salt
Instructions
Cake
Preheat the oven to 356°F/180°C and line a loaf pan with parchment paper.

In a bowl, combine the flour, baking soda, baking powder, salt, and set aside

In a blender, add the carrots, sugar, maple syrup, oil, egg, and blend until smooth. Pour the mixture into the dry ingredients and stir to combine.

Pour the batter into the prepared loaf pan and bake it for 30 to 40 minutes until a toothpick inserted into the center comes out clean. Wait 10 minutes before taking it out onto a wire rack to cool completely.
Frosting
Add the coconut milk and maple syrup in a saucepan and heat on medium heat until it reaches a boil, whisking continuously. Turn the heat to low and continue to simmer for 30-40 minutes, until the mixture reduces by half.

Pour the mixture into a bowl and whisk in the cacao powder. Let it cool completely in the refrigerator.

Once the brigadeiro frosting is chilled, frost the cake. If you want a stiffer frosting, stick the frosted cake back in the fridge for 30 minutes to an hour. Enjoy!