Do you ever "gather" your meal? That's what I call buying ready-made food and bringing it home to put it on the table. Having a teething toddler means I'm barely getting any time during the day to cook, so I'm finding myself being a "gatherer" more often.
Plus, saying "I gathered lunch for my family" makes it seem like I went foraging for food, making me sound much cooler than I actually am.
One of the items that I found at the supermarket was yodare-dori, or saliva chicken. Don't worry, I read the label and there was no saliva listed in the ingredients. And this saliva chicken turned out to be the best thing I put on the table!
Slices of moist and juicy chicken were smothered with a Szechuan style spicy red sauce, and it was surprisingly delicious considering it came from a non-fancy grocery store. It even came from the discount shelf!
I instantly knew I wanted to recreate it, but instead of serving it with a side of rice, I saw it as a great filling for summer rolls!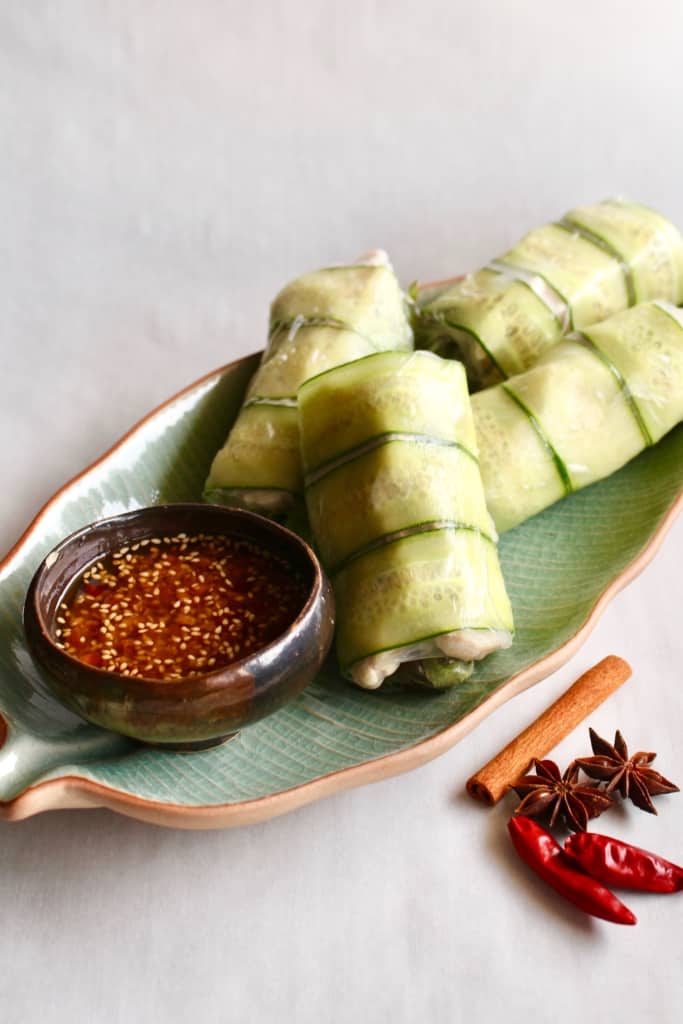 What are summer rolls?
Summer roll, also called fresh spring roll or gỏi cuốn, is a Vietnamese dish where vegetables and meat or seafood is wrapped in rice paper. It's cold and refreshing in the hot weather unlike deep-fried spring rolls, hence the name.
It's usually served with a dipping sauce; I've had them with a sweet chili sauce and a peanutty hoisin sauce. Both delicious, but for my saliva chicken summer rolls, I wanted to serve it with the spicy Szechuan style sauce.
How to make the spicy Szechuan sauce
Most of the flavor of these summer rolls comes from the sauce. And the best part of this is that you can make it ahead of time, and keep it in the fridge! If I can prep part of the dish the night before and make my life easier the next day, I'm sold! Right?
The key ingredient in the sauce is chili oil. I won't say you HAVE to make your own chili oil, but I strongly recommend it! It's easy, it adds so much more flavor, but if it comes down to you making chili oil and you lying down after a stressful day and enjoying a moment of peace and quiet, use the store-bought chili oil and get yourself some shut-eye.
Homemade chili oil is as easy as heating a pan with neutral flavor oil, ginger, garlic, star anise, and a cinnamon stick. You then pour the hot oil into a bowl of peanuts, sesame seeds, more spices, and leave it to the side!
After the chili oil cools, combine it with soy sauce, vinegar, and the chicken stock from poaching the chicken. That's it! Easy peasy!
Tips on making a beautiful summer roll
The ingredients for these chicken summer rolls are extremely simple. Rice paper, cucumbers, lettuce, and chicken. But if you take the time to wrap it nicely, it can look quite impressive!
1. Don't use a wooden cutting board as your work surface. Rice paper can get pretty sticky, and it's worse if you use a wooden surface. If you only have a wooden cutting board to work on, wetting it first with water helps! And work quickly!
2. Lay down the sliced cucumber first before the other ingredients. Rice paper is very thin and tears easily, especially when wrapping ingredients with a rough surface. By laying the cucumber first, it protects the rice paper from the edges on the chicken!
3. Keep the finished summer rolls covered with a damp paper towel. Rice paper is not only sticky, but it can dry out quickly. I like to line a plate with a damp paper towel, place the finished summer rolls making sure they're not touching each other, and cover them with another damp paper towel.
These can be served for lunch instead of your go-to salad, or as an appetizer when you have guests over! It's light, fresh, but so flavorful from the poached chicken and the spicy Szechuan dipping sauce.
You might want to make extra. They're quite addicting!
I start to crave cold, spicy Asian dishes as the weather gets warmer, and this really hit the spot! Leave me a comment and let me know what you're craving these days!
Don't forget to pin this for later and follow me on Pinterest!
Not good with spicy food and need a dessert to un-numb your mouth? How about some cheesecake or mango sorbet?
Spicy Chicken Summer Rolls
Juicy chicken and fresh vegetables wrapped in rice paper with a Szechuan style spicy dipping sauce! The chili oil, sauce, and poached chicken can be made in advance and stored in the fridge, but the summer rolls are best served on the day they're made.
Print
Pin
Rate
Ingredients
Poached Chicken
1½ lbs

(680g)

chicken thigh

3

scallions

1

teaspoon

sea salt
Chili oil
4½

tablespoons

finely chopped roasted peanuts

1½

tablespoons

toasted sesame seeds

1½

tablespoons

chili flakes

(about 8 dried chili peppers)

1

teaspoon

ground Szechuan pepper

½

teaspoon

sea salt

½ cup

(120ml)

oil

(neutral oil - I like grapeseed or regular olive oil)

3

slices

ginger

5

cloves of garlic, sliced

1

star anise

1

cinnamon stick
Sauce
3

tablespoons

soy sauce

1½

tablespoons

black vinegar

(rice wine vinegar would work as well)

½

tablespoons

sweetener of choice

(sugar, honey, whatever you have)

4

cloves of garlic, grated

3

tablespoons

stock made from poaching the chicken

¼ cup

(60ml)

chili oil
Summer rolls
10

rice paper wrappers

10

leaves of lettuce, torn

1

large cucumber, sliced vertically

(use a vegetable peeler or mandoline)
Instructions
Poached chicken
Put the chicken, scallions, and salt in a pot. Add enough water to cover the ingredients by at least 2 inches (5cm) and heat over medium heat. Once it reaches a boil, cook for 5 minutes. Turn the heat off and leave it until the chicken is completely cooled.

Once cooled, slice the chicken about a quarter of an inch thickness (64cm).
Chili oil
In a small bowl, add the peanuts, sesame seeds, chili flakes, Szechuan pepper, salt, and set aside.

In a pan, heat the oil over medium heat. Add the ginger, garlic, star anise, cinnamon stick, and cook until the ginger looks wilted and everything is fragrant. Carefully pour the oil into the small bowl and set aside to infuse while preparing the rest of the dish.
Sauce
In a bowl, combine the soy sauce, black vinegar, sweetener, grated garlic, and stock. Stir in the chili oil 1 tablespoon at a time, tasting the sauce after each addition.
Assembly (refer to photos in the post!)
Put water in a large bowl or plate. Working with one at a time, dip the rice paper wrapper into the water. Take it out and place it on your work surface.

Lay 3 to 4 slices of cucumber on the rice paper. Place the chicken on the cucumber, around the upper ⅓ of the rice paper. Then place some lettuce on the bottom ⅓ of the rice paper.

Gently pull up the bottom of the rice paper (the side with the lettuce) and start rolling towards the chicken. Fold the sides in, and continue to roll. Place on a plate and repeat.
I'm sharing these spicy Szechuan chicken summer rolls at this week's Fiesta Friday! Come join us!