Happy November! The first day of November was my mother's birthday, and what better way to celebrate than to bring her a warm muffin at work?
These apple streusel muffins are the perfect treat to have for breakfast on a fall morning. Fluffy muffins with warm spices, tart juicy apples, and a crunchy streusel muffin top. Can't think of a better way to start the day!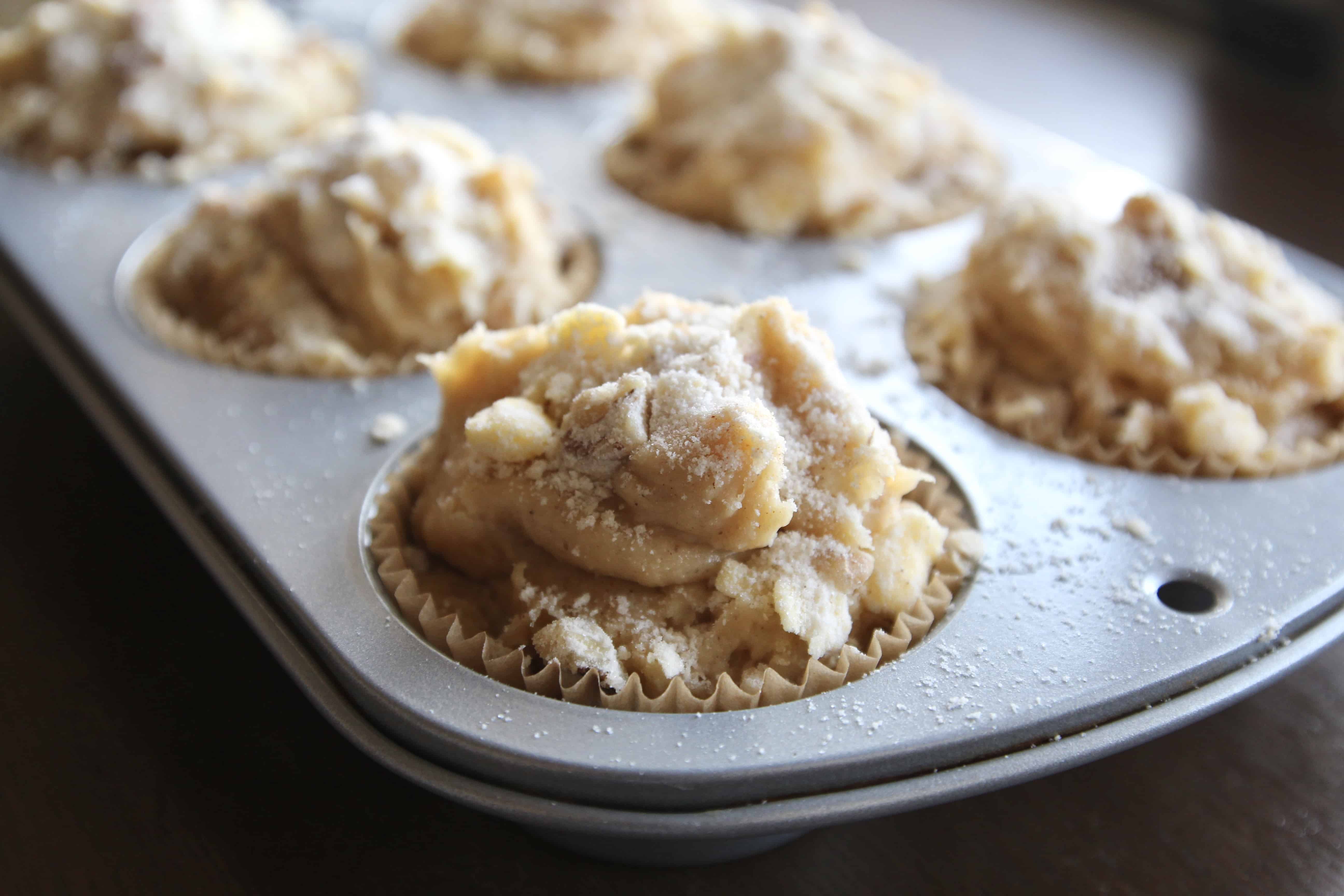 Start by making the streusel topping, and keep it in the fridge while you mix the muffin batter. I used chopped walnuts in the streusel, but you could easily swap it out for another nut, or omit it altogether.
When the batter's ready, divide it among 12 muffin wells and top with the cold streusel mixture. Because the muffin base and streusel are sweet, try to choose the tartest apples. I used kougyoku apples (the same apples I used for this and this), which I'm recently enjoying eating fresh.
When the muffins come out of the oven, let them cool in the pan for about 5 minutes before taking them out onto a wire rack. Of course, only to cool slightly so they're not hot enough to burn you.
Like many baked goods, these apple streusel muffins are best eaten warm. I heated up leftover muffins in the microwave for about 30 seconds.
There's just something so cozy about a warm muffin for breakfast on a cold morning, you know? Although, I much prefer baking muffins on a weekend and not at 6 AM on a Wednesday. Oh, the lengths I go to for my dear mother. I had mine on its own, but these would be perfect to accompany a good cup of coffee or tea!
Happy Birthday, Mommy! I love you!
If you're not feeling apple streusel muffins, try my cranberry orange muffins instead!
Apple Streusel Muffins
Print
Pin
Rate
Instructions
Streusel
Add the flour, sugar, salt and butter to a bowl and pinch the ingredients together until it forms a crumb-like mixture. Stir in the chopped walnuts, and keep in the fridge.
Muffins
Preheat the oven to 410°F/210°C and line a muffin pan with paper liners.

In a bowl, combine the all-purpose flour, cake flour, baking powder, baking soda, salt, lemon zest, and set aside.

In a large bowl, cream together the unsalted butter and sugar. Add the eggs one at a time, and then the sour cream and vanilla extract. Stir until combined.

In a small bowl, toss the diced apples in a couple spoonfuls of the dry mixture. Set aside.

Add the dry ingredients into the wet ingredients and stir until almost completely combined. Add the apples and fold the batter until the apples are spread evenly throughout the batter.

Divide the batter evenly among the 12 muffin wells and top each muffin with some of the streusel.

Bake at 410°F/210°C for 5 minutes, then turn down the temperature to 374°F/190°C and bake for an additional 15 to 18 minutes.

Cool in the pan for 5 minutes before taking them out onto a wire rack to cool completely.